What is the VisaScreen® Service?
VisaScreen® : Visa Credentials Assessment Service is a comprehensive screening service for healthcare professionals seeking an occupational visa to work in the United States. Applicants who successfully complete VisaScreen® receive an official ICHP Certificate for the VisaScreen®: Visa Credentials Assessment Service. This certificate satisfies the United States Federal screening requirements. CGFNS International is approved by the United States Department of Homeland Security (DHS) to validate the credentials of nine foreign healthcare professions for occupational visas, of which CGFNS is the only organization to validate seven of those professions.
Who orders the VisaScreen® : Visa Credentials Assessment Service?
Registered Nurses
Licensed Practical or Vocational Nurses
Physical Therapists
Physician Assistants
Occupational Therapists
Audiologists
Speech Language Pathologists
Clinical Laboratory Technicians / Medical Laboratory Technicians
Clinical Laboratory Scientists / Medical Laboratory Technologists
Please note that the VisaScreen Assessment is not designed for those whose entry to practice education is in a specialty field, such as: Biology, Microbiology, Perfusion, Chemistry, Laboratory Safety, Cytology, Blood Banking, etc.
Purpose of the VisaScreen®?
Section 343 of the Illegal Immigration Reform and Immigrant Responsibility Act of 1996 (the IIRIRA) requires specific healthcare professionals to complete a screening program before they can receive either a permanent or temporary occupational visa, including Trade NAFTA status.
Required Documents for the VisaScreen® include the following :
Secondary School Information
A secondary school diploma or an external exam certificate showing the highest level of secondary education received. Secondary school (high school) is a school intermediate between elementary (primary school) school and university, usually offering general, technical, vocational, or university-preparatory courses.  
All documents must be in English. Secondary diplomas can be translated by an applicant or someone chosen by an applicant.
If it has been more than ten years since the completion of your secondary school education, this requirement is waived. 
License / Registration / Diploma Information
Validations of all licenses / registrations / diplomas are required. This includes:
CGFNS validates all licenses, registrations, and diplomas obtained by an applicant for the VisaScreen® : Visa Credentials Assessment Service.  The VisaScreen® Report verifies the validity of all licenses, registrations, and diplomas, including:
Licenses, registrations, and diplomas that are currently held or that have been held in the past by the applicant from all jurisdictions, including foreign and domestic.
Please note that licenses, registrations, and diplomas for professions unrelated to the profession for which an applicant is seeking a VisaScreen® Service  do NOT need to be submitted. Additionally, CGFNS and State Boards of Nursing require license validations to be current (the signature of the validation authority must be dated within the last three years).
Professional Education Information
A complete academic record or transcript from each educational institution attended for the profession being screened is required. (Some professions also require syllabus / course descriptions).
These documents must be in English and must be translated by an official registered translator. CGFNS can translate documents for an additional fee.
PHOTO
To complete your VisaScreen application, you will need to upload a passport-style photograph.
Technical Requirements
 JPG FILE TYPE – LESS THAN 5MB – SQUARE (51mm x 51mm) – IN FULL – COLOR
Sized such that the head is between 1″ (25mm) and 1 3/8″ (35mm) from the bottom of the chin to the top of the head.
Taken within the last 6 months to reflect your current appearance
Taken in front of a plain white or off-white background
Taken in full-face view directly facing the camera
With a neutral facial expression and both eyes open
Taken in clothing that you normally wear on a daily basis:

Uniforms should not be worn in your photo, except religious clothing that is worn daily.
Do not wear a hat or head covering that obscures the hair or hairline, unless worn daily for a religious purpose. Your full face must be visible, and the head covering must not cast any shadows on your face.
Headphones, wireless hands-free devices or similar items are not acceptable in your photo.
If you normally wear prescription glasses, a hearing device or similar articles, they may be worn for your photo.
Dark glasses or non-prescription glasses with tinted lenses are not acceptable unless you need them for medical reasons (a medical certificate may be required)
Glare on glasses is not acceptable in your photo. Glare can be avoided with a slight downward tilt of the glasses or by removing the glasses or by turning off the camera flash.
Source: U.S. Department of State
ENGLISH REQUIREMENT
The VisaScreen® : Visa Credentials Assessment Service confirms required English language competency (both oral and written), based on passing scores from either:
The test of English as a Foreign Language, Internet-Based Test (TOEFL® iBT) or
The International English Language Testing System (IELTS) (including IELTS for UKVI)
The minimum required score varies depending on the profession of the applicant.
(Please refer to the table below to see the score for your profession)
NOTE: CGFNS does not accept the at-home versions of English Language Proficiency exams.
EXEMPTION DUE TO ENGLISH-BASED PROFESSIONAL EDUCATION
In some circumstances, a VisaScreen® applicant may be exempt from taking an English language proficiency examination. To be exempt from having to take an English language proficiency examination based on the completion of an English-based professional education, an applicant must meet the following two criteria:
Entry-level professional education must have occurred in the United Kingdom, Australia, Canada (except Quebec), New Zealand, Ireland or the United States; AND
English must have been the language of instruction, including the language of the textbooks.
EXEMPTION DUE TO US EMPLOYMENT  – VisaScreen® RENEWAL ONLY
To be exempt from having to take an English language proficiency examination based on having worked in the United States, an applicant must meet the following three criteria:
Demonstrate employment in the United States for at least 27 months, including 9 months employment prior to the date of the renewal order.
The applicant must be employed in the profession for which he or she is seeking the VisaScreen® service.
The US employer must sign and submit an employment summary on corporate letterhead.
ENGLISH EXAM SCORE REQUIREMENTS FOR VisaScreen®
Applicants for VisaScreen® must demonstrate oral and written competency of the English language as mandated by federal law.This is demonstrated by achieving acceptable scores in one of two approved examinations, the TOEFL iBT or the IELTS.
The English proficiency requirement varies by profession as indicated below: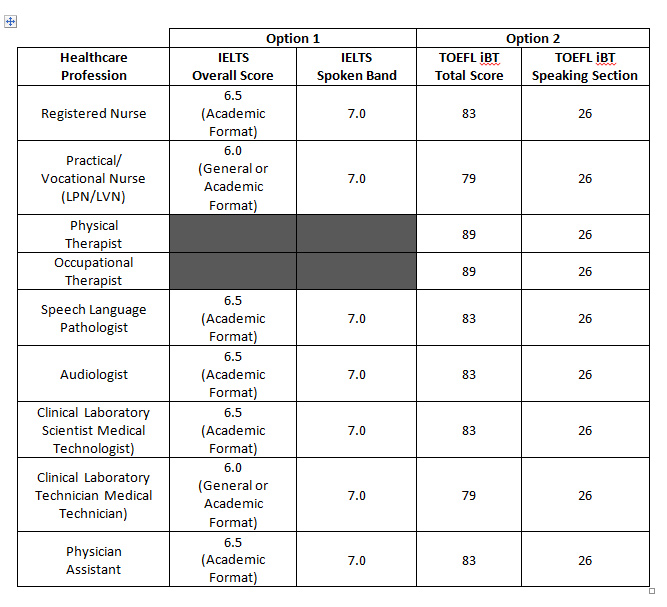 For Additional Information on English language proficiency examinations, please visit the following websites: